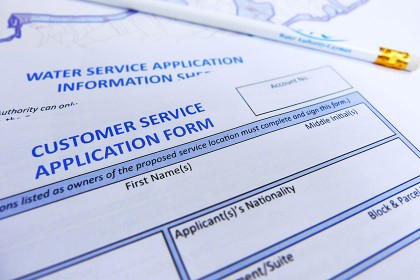 The Authority provides piped water, trucked water, sewerage and septage services to our various service areas throughout Grand Cayman and Cayman Brac. Please click here for a map of our service areas.
Follow the links below to start, stop or move any of these Water Authority services.
Please note, only owners may start or stop service at this time. If you are a tenant looking to move from one location to another within the Water Authority service network, you may request an off-reading through our Move page.
Need to start a new water or sewerage service where none previously existed?
More Information
Need to temporarily
disconnect or permanently remove your service?
More Information
Are you an owner moving out of or into a property? Are you a tenant seeking to transfer service?
More Information