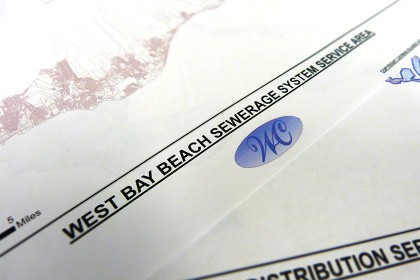 The Water Authority currently provides sewerage services to all residences and developments along the West Bay Road, from the intersection of Eastern Avenue and North Church Street and up to The Renaissance condominium complex (except those in the Canal Point, sections of Governor's Harbour, and Snug Harbour developments) via our West Bay Beach Sewage System. For a map of our service areas, click here.
If your development is located in the West Bay Beach Sewage System service area, you are required to be connected to the system. Please contact the Authority's Development Control staff in the early stages of planning to determine specific connection requirements. In all cases, the Authority makes the final connection to the WBBSS.
The sewerage rate associated with disposal in to this system depends on the size and nature of the development, please see the Rates section for more information.
Developers of certain subdivisions, depending on the development location in Grand Cayman, may be required to install the sewerage infrastructure.
Commercial developments, regardless of location or type of treatment system, have additional requirements specific to their industry. For instance, food service facilities must install and maintain grease interceptors to prevent damage to sewer lines and wastewater treatment systems.
A more extensive guide to constructing sewers may be found below.
Customers should note that unauthorised connection to the Authority's sewerage system is illegal and he/she will be held liable for any damages and charged the estimated connection fee as if the connection was done by the Authority's staff.